Today's Photos
We returned to the stadiums today with a visit to PNC Park in Pittsburgh. It has become known as one of the best new parks and I have to agree. I was in Jacob's field so many years ago I don't remember much. I've been by Camden Yards in Baltimore and Safeco Field in Seattle but never attended a game. I will get to see Comerical tomorrow. Especially after having been at Shea, Yankee, and Fenway, we really appreciated the space and amenities at a new stadium.
We drove from Wilkes Barre this morning and arrived in Pittsburgh around 3:30. We were able to check into our hotel before heading downtown. We dropped off at a shopping plaza across from downtown and took a boat shuttle to PNC Park. My dad and I went directly to our seats and found our best seats by far. We were between home and first base about half way up the lower level. I took a walk out to the right center field area in hopes of getting a baseball. The Reds were hitting BP and nothing came close to a home run. I decided to take some pictures instead.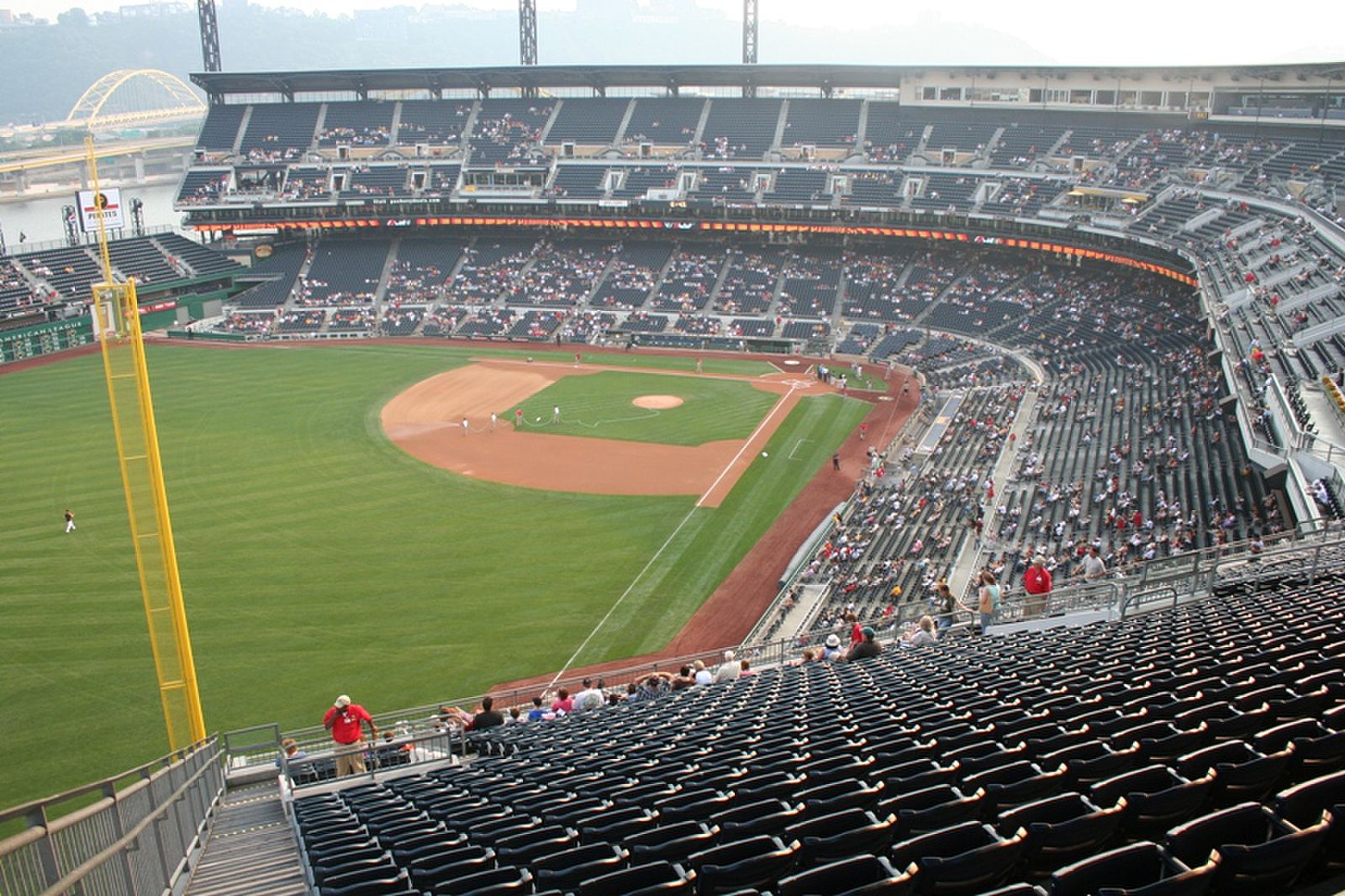 I then walked back around to the first base side and found an empty chair in the front row above the Reds dugout. I got a few more photos but mostly did people watching. There was a family that must have had a contact with the Reds media people because they were handing a TV guy a bunch of t-shirts and hats. When Brandon Phillips came off the field, he signed the items. Then someone else came over and threw a couple balls into the stands at these same kids. They were already getting autographed shirts!! I sat there until all the Reds players were in their dugout. As I was getting up, another ball popped up from under the dugout. I had my souvenir!!
I then sat in the top row of the farthest section from home plate. It was a great view but a horrible walk. I was able to get some good scenery photos up there. The game itself was not close as Cincinnati scored 4 in the top of the first on their way to a 13-4 victory. There were several home runs including Ken Griffey and Adam Dunn.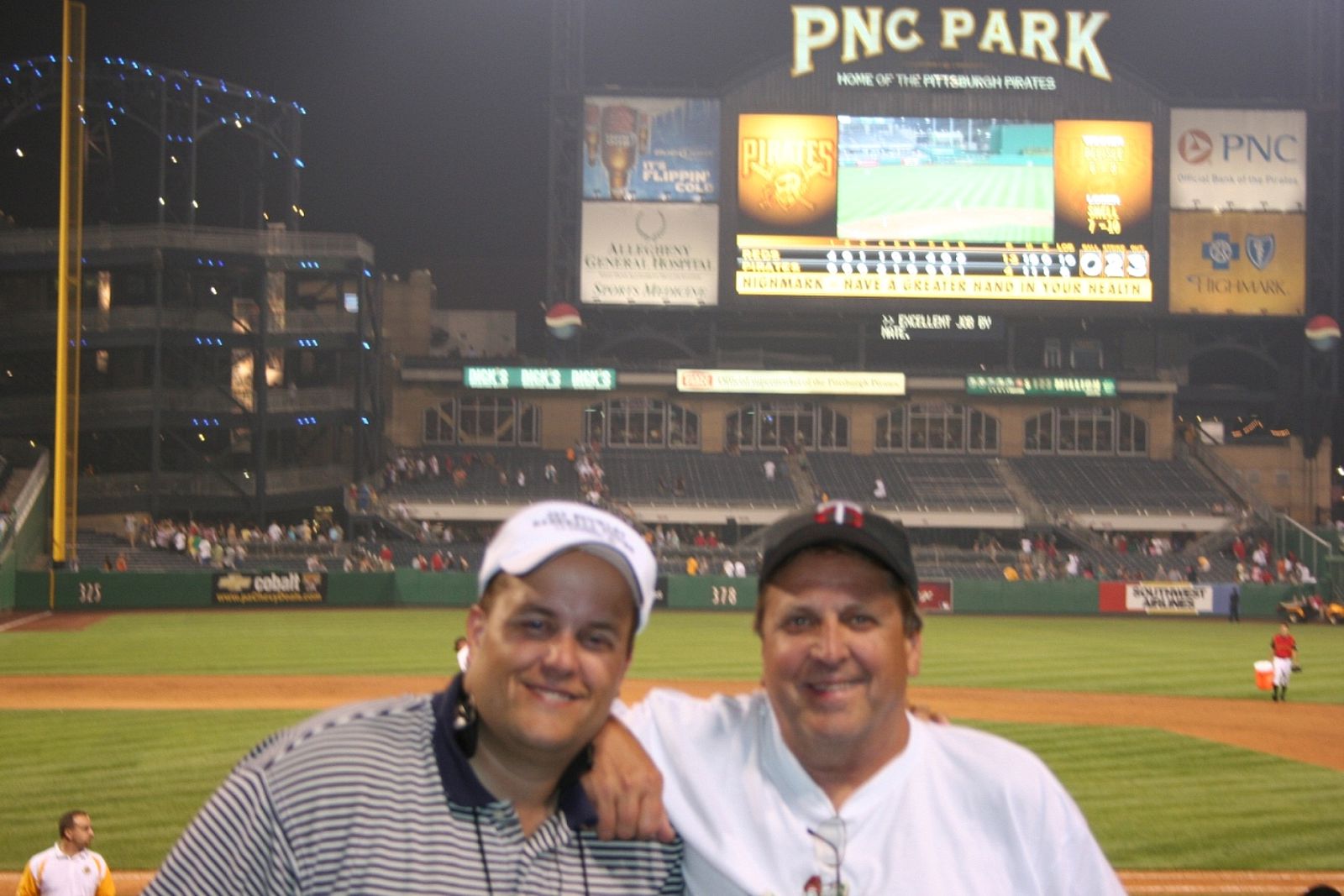 We play a couple games on the trip. One is the square game often used in the Super Bowl. We each put in a dollar and get a square that actually includes 2 numbers for each team. If the score at the end of the 3rd ($5), 6th ($5), and 9th ($15) inning matches your numbers, you win the associated prize. I was close Wednesday night at Fenway but Tejada hit a late home run to take the money away from me. I didn't get my numbers tonight so I have no idea if I won.
The other game is a batter selection. Each participate picks a card and that card is applied to the batter number for the team identified. For example, when I was drawing today, I was drawing for the Reds. I got number 9 which meant the number 9 spot in the order is me today. It was a National League game so that meant the pitcher would hit 9 and I would need to pray for a lot of pinch hitters. Going into the 9th, I was the only person on the Reds who did NOT have a hit. Fortunately Jeff Conine got a hit so I at least get some of the money back I would have lost. For every hit, every other player gives 25 cents to every other player for that team. Even though my guy did get a hit, every other member of the Reds had aleast two hits compared ot my 1.
We got lost in downtown Pittsburgh so we didn't get to the hotel until about 11:30. Our room keys didn't work so we had to go back downtown. We have a 10:30 start tomorrow so we can sleep in a little. We can join a walking tour down to the original Forbes Field, and I may do that.