Today's Photos
The highlight of today was definitely Yankee Stadium. We made 2 trips to the Bronx; 1 to tour the Stadium in the morning and 1 for the game tonight against the White Sox. On the tour we were able to see Monument Park, the press box, and the Yankees dugout. It was incredible to be standing on the same field as all the Yankee greats.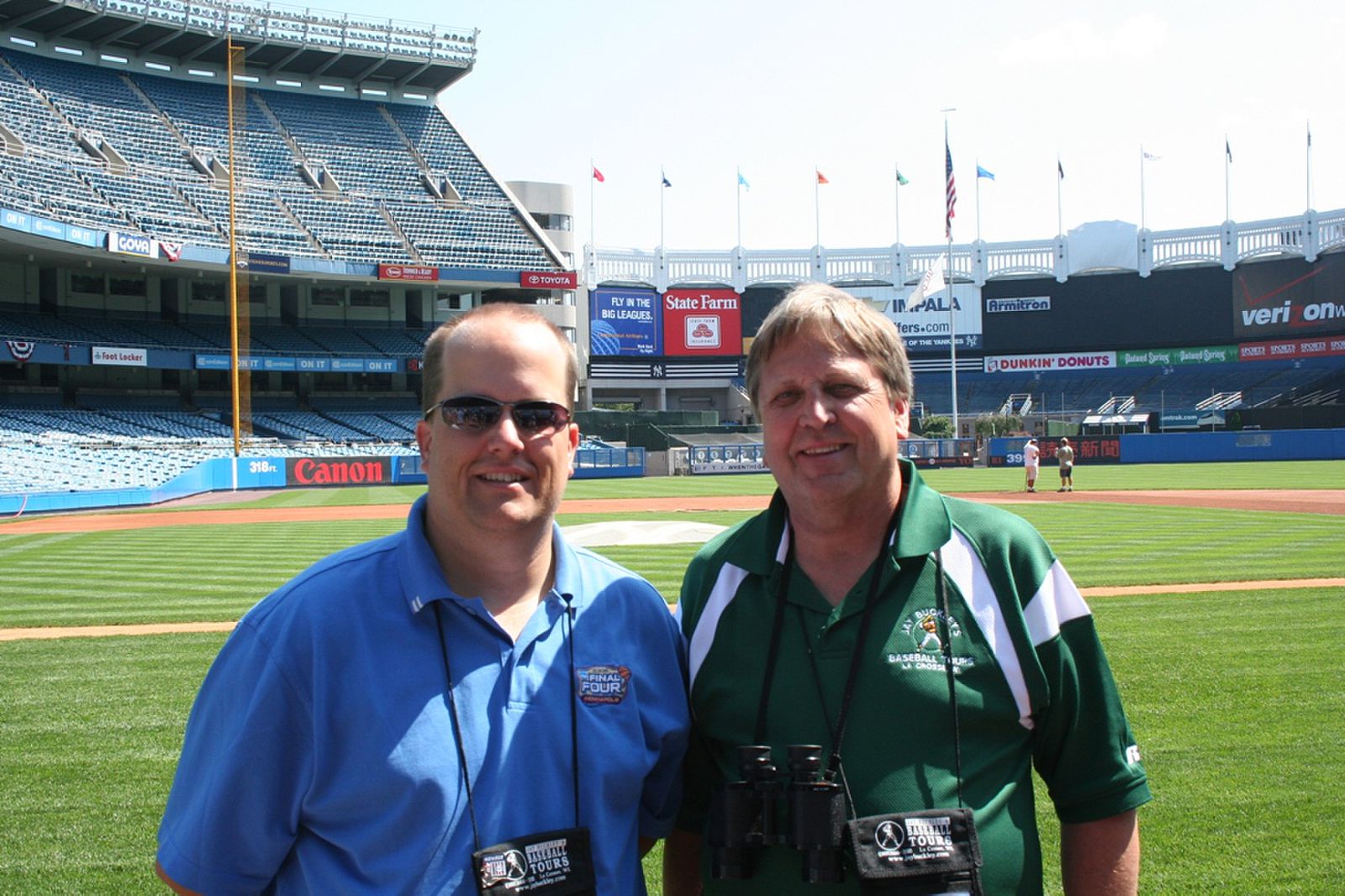 Between the two visits we returned to Manhattan. We got off the bus near Rockefeller Center and walked around the area and ended up at St. Patrick's Cathedral. What an amazing building!! We were given about 2 hours to get dinner and tour on our own. Dad and I walked down 5th Avenue to find a legitimate electronics store to buy a charger for my camera battery. We were successful at Best Buy (familiarity isn't always a bad thing). One of the guys that helped me was a Richmond, Indiana native!
Dad and I then walked over to Grand Central Station since he did not get there on his first visit to NYC. The main terminal was pretty quiet when we first got there but of course I had to say "this place looks like Grand Central Station!!" We grabbed some lunch in the lower level before heading back to the bus. As we walked back up to the main terminal, we noticed a large crowd. As we got closer, we realized we were having our first true celebrity sighting. Can you tell who the person below is from the fuzzy picture?
The bus then took us to the Metropolitan Museum of Art or "The Met." It was an amazing place but we only had an hour to walk around. I particularly enjoyed the impressionist collection with Van Gogh, Monet, Gogin, and Matisse. I also stumbled across a baseball card exhibit in the American Hall. One of the cards was a Ty Cobb card.
After the museum it was back to Yankee Stadium. We arrived about an hour and a half before the game and walked around. It was a mad house with street vendors, small shops, bars, restaurants, and even a bowling alley on River Street and 161st just beyond left field. We walked around for awhile but then decided to head to our seats. We took a quick detour into the lower level seats in left field for batting practice. Jim Thome of the White Sox was hitting shots into the left field seats but they were all below us.
We then headed up to our seats which were just a few feet from the moon. Like at Shea we were 4 rows from the top but this time we were in right field. We could not see most of the right field fence so we hoped all activity would be in left field. We also had a chance to see A-Rod's 500th career home run. The sell out crowd settled in late but those arriving on time got to see Bobbie Abreu hit a three run home run followed by Hideki Matsui hitting a solo shot in the bottom of the first. Chicago got back in the game in the top of the third with a 3 run shot of their own by Juan Uribe. From then it was all Yankees.
They set a franchise record with 8 home runs in a 16-3 victory. The amazing part was that A-Rod did not hit one of them. He was 1 of only 2 Yankees without a hit, 1 of 2 without an RBI, and the only one without a run scored!! Matsui hit 2 home runs and Jorge Posada had 4 hits and was 1 short of hitting for the cycle. Ozzie Guillen was ejected on the second batter in the bottom of the first arguing a check swing that was not called a strike. Paul Konerko was ejected later in the game for arguing balls and strikes. The plus for us is it allowed Darin Erstad to get in the last couple innings on his return from the disabled list.
Because of the late arriving crowd, we kept our eyes open for unused seats closer to home plate. After the fourth inning we noticed there were 4 seats in the upper level section behind home plate so we went for it. Nobody else claimed them so we enjoyed the last half of the game in excellent seats!! It was well worth the extra walk.
We are definitely getting our walking in! Hopefully it's helping to offset all the nutritious food we are getting at the stadiums. I've behaved myself pretty well but have taken advantage of the great Nathan's hot dogs at both Yankee and Shea. Although I would never eat 63 in one setting like the Nathan's Hot Dog eating contest on Coney Island, they are definitely the best in hot dog fare.
Tonight we are in Meriden, Connecticut, and will leave late morning for Boston. We will have a couple hours in the afternoon downtown and then head out to Fenway for a game against the Orioles. It sounds like our seats are pretty horrible tomorrow night too so hopefully we can scope some better seats. I hope to get pictures uploaded from the past couple days as well.